Let us start with our journey of best bicycle touring tires. As the saying goes, it's the journey that matters. Very true indeed. The journey, if completed on a good note becomes a part of our memory always cherished.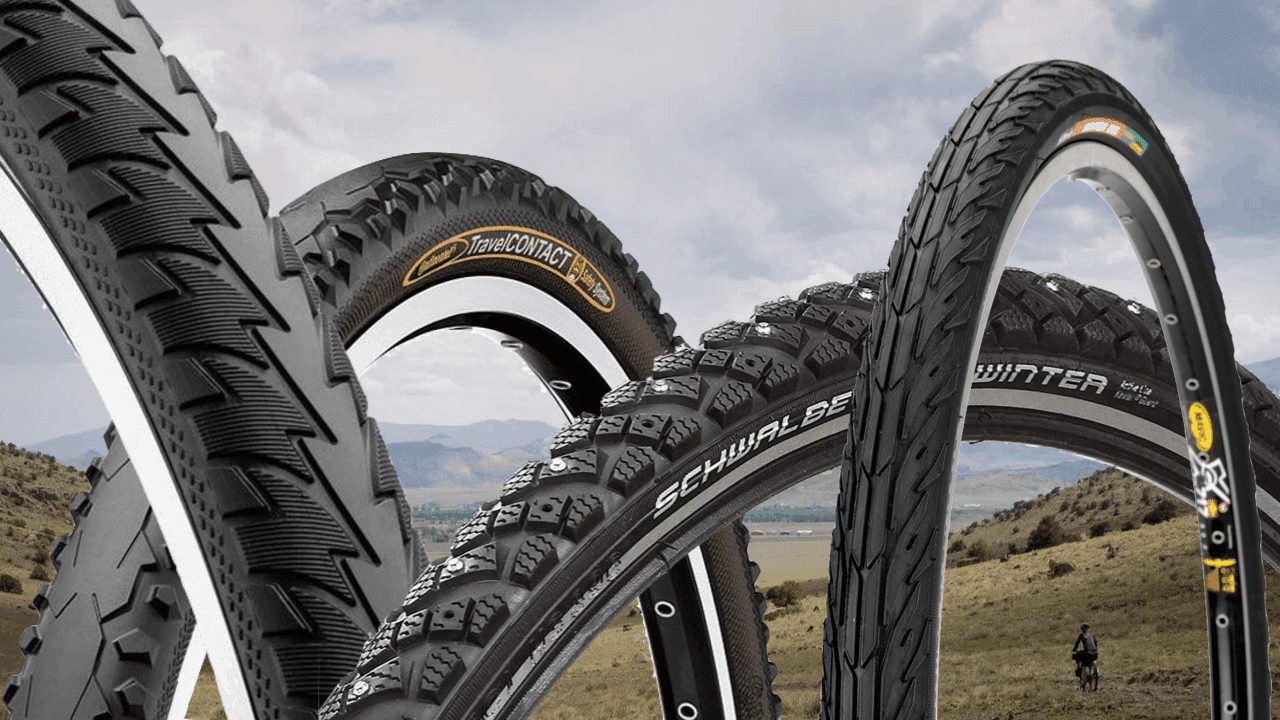 Whatever tour it is, it must end on a good note! The same goes for our bike tours. If the journey was awesome, it etches a permanent story worth talking about. Here of course the bike matters a lot and actually it's only the bike ride which matters much more than the destination.
But imagine for a faintest moment that you end up with a flat tire. Or maybe in the journey from some rough terrains, the tire gets all worked up and you end up losing the grip. Or just think about a thousand other possibilities which might occur due to the non-cooperation of your tires. Is the journey still sounding awesome? Well mostly no. It would let you get stranded in some remote place or maybe waste much of your precious time.
It would definitely lead to a lot of negativities and you might end up wondering why did you decide to travel at all! So you see? Having good tires will only mean a better and smooth journey which we all know you deserve. So you need to make sure that the tires you choose for your bike are suitable for the journey you would soon undertake.
Now here you're going to be presented with the best bicycle touring tires which will ensure an awesome experience. Some few things you should care about: punctures, rolling of the tires, the pattern of treads, flexibility, and other minor details.
let's look at the best bicycle touring tires!
1. Schwalbe Marathon Plus
The review of these tires is simply awesome and if you're looking for some quality, you must go through this. These tires can cover a vast amount of distance with ease and without getting damaged in the process. Yes, you can even cross borders! Puncture is something quite rare as it's protected with a 5 mm puncture protection belt.
This tire is known to have high resistance when it comes to sharp pebbles, glasses, and basically all those pointed stuff that might damage any other normal tires. Weight is slightly more but hey! No complaints. Travel with all those loads and be sure that this tire's got your back. This tire is in no.1 position in our list of 14 best bicycle touring tires.
SCHWALBE Marathon Plus HS 348 Road Bike Tire
Item Shape: Wire Beaded, Outstanding performance
Extended durability
The SmartGuard layer made from a flexible, special rubber offers particular resistance to shards of glass and flints
The SmartGuard belt does not increase rolling resistance
The Marathon Plus rolls as easily as a tire without protection
2. Continental Travel Contact
Here comes the trek master. At par with Schwalbe, this tire is designed to withstand uneven and sharp objects with some super awesome protection and also the tread designs are quite sturdy and sharp. You can easily carry some big loads.
Durability is simply awesome and it can't easily get punctured. You need to get into some really bad places if you want these tires punctured. As the name suggests, you can travel far and wide. It is also known as "The Globetrotter". Do you get the drift?
Continental Travel Contact Urban Bicycle Tire (26x1.75)
SAFETY SYSTEM- Made of strong and tightly woven nylon fabric, impregnated with Kevlar providing excellent resistance to pinches and cuts.
ROBUST CARCASS- High carrying capacity and protection against chafing and cuts, all with a tread that can travel the world quickly and safely.
SUPERIOR SUSPENSION- The large air volume and dynamic profile convey a safe feeling on all types of road surfaces.
WIRE BEAD TIRE
3. Schwalbe Marathon Almotion
Schwalbe won't be left behind when we're talking about best bike touring tires and here it comes with another type named Schwalbe Marathon Almotion. These tires are tubeless and the rolling resistance which can hamper the journey is quite low which is just another awesome thing. Puncture resisted?
That's like asking a weight lifter whether he can lift weights. Of course, it is heavily protected and cannot easily get punctured. Also, the specialty of these tires involves optimum functionality when it's raining and roads are slippery. So you can safely assume that the grip is very well designed and the tread pattern is awesome. This tire is kept in no.3 position in our list of 14 best bicycle touring tires.
4. Vittoria Randonneur Cross Touring
Well they're lighter tires however you must know they're built quite well and sturdy as well. However, it's debatable whether it's quite efficient for some hardcore trips. But by all means, you must give it a shot. Durability is cool and meant to withstand much adverse weather you can think of.
5. Vittoria Randonneur ll
Once again a Vittoria product and an awesome one once you roll with it. Some say the installation part becomes a tad bit tedious however the tires once ready will only mean some awesome touring experiences suitable for wet and rocky conditions and the tread pattern is quite good as well. Economically much easier to afford and don't worry about the loads. It'll take you. This tire is in no.5 position in our list of 14 best bicycle touring tires.
6. Clement X'Plore MSO
This tire will be your best friend when you're all about touring in some harsh conditioned places involving rough and rocky surfaces and some off-road types of places. Your grip will be well maintained that's a pretty obvious thing and also the tread patterns will ensure a smooth and relaxing tour. Comfortable with many conditions, strong shoulder lugs makes it pretty much of a good choice. This tire is in no.6 position in our list of 14 best bicycle touring tires.
Clement Cycling X'PLOR MSO Clincher 120 TPI Tire, Size: 700cm x 32mm
The combination of smooth-rolling center knobs and aggressive shoulder lugs provide great traction and durability.
The MSO will fit on your cyclocross or gravel bike, commuter, or touring rig. An adventure tire designed for mixed conditions
MSO is the airport code for Missoula, Montana, home of the Adventure Cycling Association and the inspiration for countless cycling journeys
Designed to bridge the gap between pavement and blazing your own trail
7. Schwalbe Marathon Winter
As the name suggests, it is suitable for some harsh winter conditions involving low pressure and icy surfaces. The tires are designed in a different way which makes it suitable for those cold tours. Spiky circumference only ensures harder and comfortable grip. You can use it in normal tours as well however you can face some higher resistance in terms of rolling. This tire is in no.7 position in our list of 14 best bicycle touring tires.
Sale
8. Schwalbe Big Apple 28×2.35
These tires ooze durability. What with much thicker circumference and well-built treads along with its resiliency in terms of any damages or any sort of problems, it becomes one of the ideal choices for you. Also, the fat tires look quite awesome when attached to your bikes. So why don't you check it out?
Sale
9. Marathon Mondials
Once again awesomely designed in terms of tread, these tires are lighter in nature but do not underestimate its grip or resistance. It's quite awesome. Also, the journey will become quite smooth even in terms of cornering. Debatable when it comes to off-road riding though. So you check whether it suits you. This tire is in no.8 position in our list of 14 best bicycle touring tires.
10. Marathon Supreme
Supremely awesome, these tires do all the things you require which involves withstanding some bad roads, puncture durability, awesome grip, and smooth rides. The One Star triple compound made of some good polymers ensure a good quality. All the conditions are absolutely fine and I would recommend you to at least give it a watch!
11. Michelin Proteck
Presenting you with an awesome brand with an awesome tire designed for awesome rolling experience with a good grip which sums up to a valuable journey. The number of grooves available makes it quite an ideal choice for some really wet and harsh conditions. Also, it's quite protected from punctures. Efficiency is worth talking about and it's recommended to give it a shot.
MICHELIN Protek Bicycle Tire
The tread pattern makes for easier rolling
The rubber compound gives excellent grip
The 1mm anti-puncture reinforcement gives effective protection for everyday use
The continuous design at the center and the high level of grooving on the shoulder gives excellent grip on wet and greasy surfaces
12. Marathon Racers 26×1.5″
As the name says, it's fast. Doesn't mean the grip isn't good. Resistant to punctures and equipped for various conditions, it becomes one of the foremost choices for touring. It's light in weight which makes it people's favourite.
13. Continental Touring Plus.
Once again a design quite awesome in terms of puncture resistance, comfortable grip and awesome treads. Elasticity of these tires is quite awesome and the protection it provides is almost invincible. Rolling is quite smooth as well. However once again it is said by some that the smoothness won't be enjoyed much when it comes to some heavy rough roads.
14. Marathon Range Cruiser
This tire will be around for a long time as it resists all those harsh conditions in terms of weather, surfaces, sharp-pointed objects on the road. Also you can expect a good travel of over a thousand kilometers. In terms of price as well they are quite cheap which makes it a good choice for many.
Last but not the least this tire is kept in final position in our list of 14 best bicycle touring tires.
FAQ'S
1. Which one of them is the best bicycle touring tires?
All of them are good in their own ways so make your choice based on your tour, duration, load, rolling resistance and price.
2. Why does one need Touring bike tires?
Touring bike tires are designed for long tours which would involve rough terrains and uneven roads coupled with heavy weight. Normal tires aren't designed for that.
3. Are they puncture proof?
Almost all of them are puncture resistant however some are definitely puncture proof as written in the article.
Conclusion
So these were some of the best bicycle touring tires you must know about before you embark on your journey and you must make your choice based on the durability, flexibility, rolling resistance, tread patterns, and the weather as well as road conditions. You can also check out for more cycle-related product reviews here.